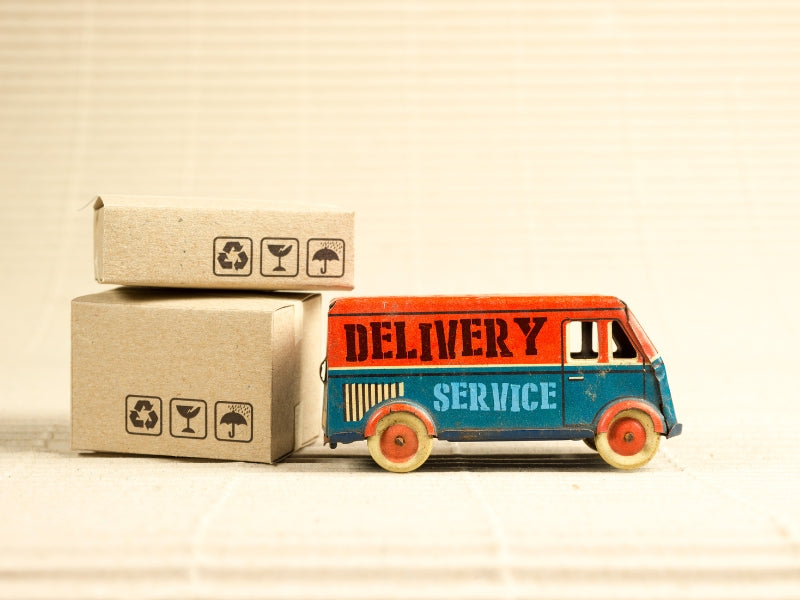 How to enjoy the best shipping experience
We have prepared this guide to help you understand the important features of our shipping services so you can enjoy a better shipping experience.
But first, let's explain who we ship our organic coffee capsules with and why.
How parcels ship to you
All parcels for residential addresses and business premises are shipped using the Australia Post parcel network. 
For larger packages, we have the option to send these larger packages via the StarTrack Road Express network. However, this option is limited to business or commercial premises that can accept Authority to leave.
After 17 years and almost 1 million parcel deliveries all across Australia, we know from deep experience AusPost provides the broadest coverage and the most reliable and consistent overall service.
Whilst AusPost may only sometimes be the fastest or the cheapest, the incident rates with AusPost are dramatically lower than couriers, and that makes AusPost a far more reliable choice. 
During six years up until mid-2022, we implemented a multi-shipper solution that included Couriers Please and Fastway (now known as Aramex) along with AusPost.
All three shippers deployed for the best hybrid outcomes of speed and cost, and we offered customers a choice of shipper at the checkout. Naturally, customers primarily selected the cheapest, but as it turned out, the cheapest was often the slowest and most unreliable - courier.
Sadly, the performance from Couriers Please and inconsistent results consistently tarnished Fastway couriers. At times, couriers could be fast for some segments/areas. Yet, in other instances, the couriers were slow, especially when drivers would not deliver parcels for up to a week or more, driving around with the package delivered at their convenience instead of a performance standard.
Using a shipper with wildly unpredictable performance and high incident rates will never be viable for online retailers.
Overall, our experience using Couriers Please and Fastway/Aramex was negative, and that's not something we were proud of despite many customers begging us to keep the couriers available because deliveries to them worked better than AusPost.
So the reason we stopped using Couriers Please and Fastway/Aramex was due to unacceptably high incident rates - around 900% higher compared to AusPost. It was killing us as parcel delivery incidents from Couriers imposed unreasonable high-stress levels upon customers and our staff.
Nobody wants to have a parcel go missing or delayed or damaged - ultimately, it's not worth reputational damage far exceeds any perceived benefits.
Courier-related delivery incidents had been particularly bad for customers residing in business premises or apartments. Often, couriers needed to be more active and attempt delivery. 
Sure, that can also happen with AusPost, but less often, as AusPost drivers must achieve higher performance standards than couriers, mostly franchise or casual drivers.
For larger parcel deliveries to business premises, we will use either FedEx (TNT) or StarTrack Road Express. The decision on which carrier to use comes down to several factors we decide at the time based upon order, package and destination. Please bear in mind that FedEx and StarTrack can sting with hidden fees after the delivery if there are issues with obtaining signatures or re-delivery.
At all times, the choice of shipper remains a myCoffeePods decision as we strive for a 100% success rate in our deliveries and happy customers. Please do not ask us to use non-standard shipping agents to carry your order.
A key benefit we enjoy as a large merchant partner of AusPost is the ability to lodge directly to a high-speed facility, bypassing the normal bottlenecks at the Melbourne Parcel Facility in Sunshine. It allows us to eliminate or reduce at least 1 or 2 days in transit time, depending upon the season.
What if I'm not home
Simples.
Just check the Authority To Leave (or sometimes called ATL) box in the CART before proceeding to the checkout.
The checkout is locked down securely to prevent customer payments from being compromised. 
Therefore, we cannot provide flexibility or features in the checkout as the software provider treats security seriously.
Customers must set delivery preferences in the Cart before proceeding to the checkout for payment.
By default, every parcel ships with a Signature Required. This option is a critical security feature that protects us and you from parcel incidents.
Signature Required means delivery agents must obtain a signature before leaving a parcel at your premises.
For some customers (around 60%), they may prefer their parcel left without needing to sign. 
This feature is called "Authority To Leave" (ATL) and is enabled in the CART by checking the box before proceeding to the checkout.
The CART also provides an area for customers to enter delivery instructions or notes.
Please be aware that writing notes such as "leave the parcel" without checking the Authority To Leave box does not remove the Signature required feature.
IMPORTANT Note - A checkbox is available for customers to grant Authority To Leave. This checkbox is only available in the Cart and must be checked if you want the parcel left without a Signature. 
Notes or instructions asking to leave packages are normally ignored by the delivery agent when the Authority To leave is not granted.
Safe Drop
Once your parcel has shipped and left our premises, the record in AusPost is locked, and we cannot make any changes.
From this point, AusPost will communicate directly with you to provide updates about the transit of your parcel.
On the morning of expected delivery, AusPost may SMS or email you to notify you that your parcel is on board for delivery. AusPost may ask you to confirm that someone will be available at the delivery address or whether it is OK to leave the parcel unattended.
This process is called a Safe Drop.
AusPost delivery agents undertake training to help assess delivery address conditions so they can judge whether a parcel can be left at the premises using Safe Drop.
If the physical location of where the delivery agent is going to leave your parcel can be easily seen or accessible from the outer boundaries of the property, the Delivery Agent may deem the premises unfit for Safe Drop. In other words, if your veranda is close to the front street and the parcel is visible from the outside of your property, then it's not safe to leave.
Delivery agents may try to hide or obscure the parcel when performing a Safe Drop. 
In the past, we have encountered incidents where the package is hidden in a receiver's carport, around the rear, in the garbage bin (yes, it's true) and in many diverse locations. These days, delivery agents tend to be less creative, so if it looks unsafe, then it's automatically returned to the LPO for a customer to collect.
AusPost stayed in the parcel when we requested ATL.
So you did all the right things when placing the order and checked the Authority To Leave (ATL) box in the CART before proceeding to the checkout, but AusPost still didn't leave your parcel and instead forced you to collect from the LPO.
Yep, we hear this a bit, at least a few times a week.
At times, there can be many different reasons why delivery agents won't physically leave your parcel at your premises despite asking for this to occur.
Mostly, this comes down to 3 primary conditions.
1. No access.
The delivery address property has a fence, or the gate is closed. 
Since the pandemic, many more residents own pets, especially dogs. 
These dogs can attack delivery agents, or they can escape out of an opened gate. 
For both scenarios, poor delivery agents end up worse for wear.
Some delivery agents will not enter a closed property. It's their choice, and the old days of opening gates and walking up to the front door are no longer. Pets or small children are at risk with closed premises.
As the receiver, you have a clear responsibility to ensure that the delivery process to your premises is simple and normal. 
Gates and fences create barriers, generally resulting in a parcel diverting to the nearest LPO for your collection.
The same goes for apartment buildings and business premises. If there is a locked door at entry, or the process to gain access takes time or requires calls, the delivery agent will divert the parcel to the nearest LPO - they won't waste time trying to figure it out as often they have up to 100 packages to deliver per shift.
Please be aware that delivery agents are not obliged to call the receiver - it's not part of their service scope, and we ask customers to be mindful of being able to accept a delivery.
2. Not safe to leave unattended.
Most often occurring in multi-tenanted buildings. Leaving parcels in the common area unattended is a high risk of theft. 
When the delivery agent can see the parcel, they may redirect it to the nearest LPO for collection.
3. Rogue delivery agents.
So you set Authority To Leave, and your premises have a relatively safe place to leave parcels unattended. Still, the delivery agent refused to leave the box or, in some cases, didn't even attempt delivery, instead diverting your package to the nearest LPO for collection.
Yep, it's super frustrating. We understand, and it also happens to us when we order stuff.
Unfortunately, we have to call it out. Yes, every shipping company has several delivery agents that eventually go rogue. They either get lazy, angry or annoyed and won't even try to do their job properly. 
Sometimes, there are pockets of areas where problems develop for a short time due to poor culture or performance standards for delivery agents, and the very best way of dealing with this type of problem is to report it directly to your local Post Office or call AusPost now.
Unfortunately, we can't do anything to fix rogue delivery agents, but you can trust that AusPost deals with complaints seriously.
Delivery agents with excessive complaints may get removed from the network. 
We hope this guide helps you understand how you can experience a better delivery experience.